Do you need to evidence the impact of Covid-19 on your service in terms of…..
• Service standards delivered?
• Demand for and usage of the service?
• Productivity?
• Actual costs against budgeted resources?
• Number of operational employees who actually delivered the service?
• Impact on planned income?
• Vehicle utilisation?
We have launched a new additional service available to performance networks members free of charge for the following service areas:
1. Building cleaning
2. Building maintenance
3. Catering
4. Cemetery and crematorium
5. Parks
6. Refuse collection
7. Roads, highways and street lighting
8. Sports and leisure
9. Street cleansing
10. Transport
We held on-line working group meetings during June to decide on a short set of questions for each service area to measure the impact of Covid-19 from April to June 2020. This is intended to assist our members with budget setting this year. The short data collection templates containing about 10 questions per service were issued at the beginning of July (and are available to download from the performance networks web portal) and the deadline for returning these is Friday 21 August 2020.
Please complete as much as you can (you do not need to complete all of the questions) and return this via the members portal or by emailing performance.networks@apse.org.uk. You will receive a comparative report during September 2020.
Upcoming deadlines for the full 2019-20 data collection
Target deadlines for the full data collection for 2019-20 are as follows: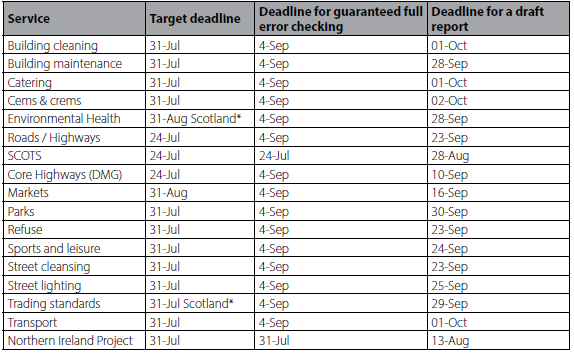 *Dates for England and Wales to be confirmed as these modules are currently under development.
Template review - making data collection easier!
We have done a full review of the following services and have significantly reduced down the amount of data you need to collect for this now:
• Parks, open spaces and horticultural services - removed the need to collect data through the Service Profile Table (SPT) and incorporated a reduced number of questions into the management template. We have reduced and simplified the data collection on hectarages maintained.
• Market operations - significantly reduced M - File to assist with data completion and a large number of questions have been changed so that the data is collected as at 31st March as opposed to having to collect the data throughout the year.
Street scene operations - New feature!!
For those members who operate an integrated Street scene service, the data collection has now been made easier where you are unable to split your data into the separate functions.
If you operate an integrated Street scene service with generic roles (e.g. General Street Scene operatives), it may not be possible to accurately disaggregate some elements of the data collection between the specific services (management and front-line staff (hours / FTE), staff absence, staff costs, some non-staffing operational budgets, etc). In this case, to ensure all members can participate in the data collection exercise and to ensure greater overall accuracy, APSE have developed a new Street Scene data template, which covers both street cleansing and parks services.
Do you want to prioritise data collection this year?
We've highlighted what data you need to complete to qualify for core PI's and the awards!
All questions in the management data template that are required for the awards PI's or Family Group calculations have been noted in the data usage column for the majority of data templates this year. The accounts template as well indicates which data is important to collect. This will help members to prioritise the data which they need to complete this year. Please note you can still complete the full data collection templates to get your full basket of performance indicators.
Free support to guide you through the process: one-2-one video conference training
We have made huge changes to the way we deliver our data completion training this year in response to the current global COVID-19 situation. We have been working hard to set up remote training capabilities and we now offer the same great content, via an online training session. Our expert trainers will be able to share training materials and use visual screen sharing technology, to ensure you are fully up to date on all aspects of data completion training. All you need to do is access the training session via a laptop or your mobile phone, and you're good to go. To find out more about this, please click on this link to access the full flyer or to book training on-line please click here
Building cleaning App
We are very excited to launch a brand new app for building cleaning inspections. This follows the huge success of the LAMS App. A working group was held in June 2020 to decide and agree on the scope and questions to be included in this inspection system. This is currently under development and will be piloted autumn 2020.
This new app will include 4 different surveys:
• Educational establishments
• Leisure centres
• Offices
• Public conveniences
The cost is £600 per year per authority. There is no maximum on the amount of users who can be registered for the App and the price is per authority as opposed to per user. Compared to paper-based systems, the App will reduce the duration of inspections. The App automatically identifies location through GIS and requires photographic evidence to support the grading for validation purposes. It is user friendly so that you can train your new staff efficiently and it reduces the time it takes to submit inspections as this is through a click of a button.
The results from participating authorities can be benchmarked throughout the year, so that you can compare grading / cleanliness levels not only by authority, but by building and feature type thus becoming an invaluable management tool producing meaningful data. This can be used to prove value for money and to promote how effective your service is. Not only would this data be available 'live' via the cloud but also feed into the performance indicator reports and can contribute to the awards criteria.